If you haven't entered my first giveaway yet, don't miss out!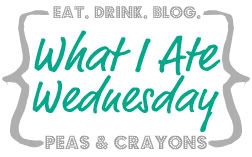 Today is my second
What I Ate Wednesday
since beginning to blog about my food. I am still getting the hang of taking photos of all my food and missed several meals on the road trip and completely forgot to photograph dinner last night. Still, I think the best way to get in the habit is to stick with the WIAW posts, even if I'm not yet going with the themes or adding them to the link parties.
This week I would like to share some of the food from our road trip (what I managed to photograph), and the food I remembered for yesterday.
First, the road trip:
Our first meal in NYC was dinner at 123 Burger Shot Beer in Hell's Kitchen. Sliders are $1 each, so the four of us at dinner split 15, an order of fries, and an order of onion rings. So good, but so greasy. Speaking of greasy, we went out for pizza at 1am but I didn't grab a photo. Probably for the best.
The next morning we met a friend in Astoria for brunch at Café Bar. I got poached eggs and salmon on an English muffin with asparagus and roasted tomatoes. Later in the day we stopped at a Burger King on the way to Philly and I got a kids meal chicken finger and sweet potato fries.
That evening in Philly we went to Tria. I didn't take any photos, but you have to check out the menu. The three of us who were out got the caramelized onion and feta bruschetta, the broccoli rabe bruschetta, the olive oil rosemary potato chips with truffle aioli, and two goat cheeses. Everyone then also got a sandwich (tuna for me) It was all amazing! The next morning in Philly we went to Sabrina's Café where I got the bagel and lox platter. I can't say no to salmon. That afternoon we stopped at Jim's Steak for me to try a cheesesteak. I loved it!
That night we drove to Baltimore and I got an order of coconut shrimp and crab wontons from a crab cart. Yep, that's Baltimore for you and it was delicious. The next morning in Baltimore we went to a nearby diner where I got an egg over easy with grits and split pancakes with a friend of mine who was hosting us. It was almost like being in the South. Almost. Afterward we explored the Inner Harbor and were so exhausted by the end of the day that we went to the closest place, the Hard Rock Café, where I got a burger with guacamole.
For dinner we were in DC and went to Busboys and Poets where I got a tempeh panini with vegan mayo, arugula, roasted red peppers and sautéed onions on levain bread with sweet potato fries. It was good, but the tempeh was slightly over seasoned. I say this as someone who really enjoys the taste of tempeh anyway, which I realize not everyone does. Maybe I'm a weirdo. After several hours of hanging out with DC friends at a few local watering holes, I got a burrito from a food truck. Yeah, not the greatest choice, but pretty amazing.
The next day we met a friend near DC's Eastern Market for brunch at Montmartre. I got eggs benedict with smoked salmon (you're shocked, I know). We skipped a second meal because we were so full from brunch, but for dinner we stopped at the first restaurant we could find with parking. I have no idea what it was called, but I got a pretty good veggie burger with sweet potato fries.
We got back to NYC very late that night and the next morning had breakfast at our hotel. I was craving waffles and got lucky that they had a waffle maker. After check out we went into midtown and met a friend of mine for coffee (and a scone that I split with Joe). After walking all day, we stopped at Stout where I got an Ahi Tuna sandwich. It was too dark to get a photo of the food, but I grabbed this one of the bar.
Finally, on our trip back to the hotel, we stopped by Grand Central Station to get a piece of cheesecake from Junior's (plus a piece for the person who hosted us our first night). If it wasn't evident, there was a lot of indulging on the road trip, hence the second part of this post's title: Recovery. Yesterday I attempted to get back on track with healthy eating.
For breakfast I had a bowl of instant oatmeal with flax, then a few hours later grabbed a small bowl of nonfat, plain Chobani Greek yogurt with Cascadian Farms granola and Driscoll's raspberries. For lunch I made a variation of my Avocado lettuce wraps. My second snack was a piece of light style toast with chocolate peanut butter. I was doing pretty well until I went out to support a friend's last night tending bar at a local place. I didn't grab a photo, but I had half of an Eggplant Spinach flatbread pizza and a snack size avocado egg roll. Certainly not the worst I could do while eating out, but not the best either.
Getting back on track isn't always easy, but small steps are better than no steps.
What is the hardest part for you about getting back on track after indulging? What are your tips?

Similar Posts: