Good morning! It's Wednesday so you know what that means: it's What I Ate Wednesday! Before I get into my food from yesterday, let me remind you that I am hosting a Q&A with Kim Kirchherr, the dietitian for Wild Harvest, and need YOUR questions! Whether you're looking for information on specific protein sources, making healthy substitutions in your recipes, or clarification about certain nutrients, submit it for Kim by emailing questions@fightingforwellness.com.
Now, onto the eats!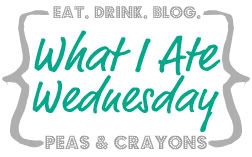 Breakfast was the usual – a Vega One Natural-flavored (note, that means it tastes as green as it looks, which I love but others might not) with unsweetened original Almond Breeze almond milk.
First snack of the day was a Musselman's applesauce cup. I love applesauce so much and always forget about it until I'm sick. I was sick recently and stocked up so now I have the extra treat of applesauce in my lunch bag.
Lunch (and dinner for that matter) contained my new obsession—tofurkey. Tofurkey sandwiches are probably going to get me through the rest of grad school. Last night was my late night, which means I packed both lunch and dinner. I had a tofurkey sandwich on light style extra fiber bread with romaine and Wild Harvest dijon mustard for both lunch and dinner. The only difference between the two was my side. At lunch I had these delicious and colorful heirloom carrots while at dinner I had mini heirloom tomatoes from Trader Joe's. Can you tell I love my heirloom produce?
I gave myself enough leeway to try half of one of the cookies that the new girl at work brought in. They were chocolate and butterscotch chip and they were amazing. I'm glad I limited myself to just half because otherwise I would have probably kept on eating.
After a midday incline run yesterday, I snacked on a banana. Pretty self-explanatory, but still photo-worthy.
I missed getting a picture of dinner (but it was basically just like lunch) so I made sure to get a picture of my in-class snack. My late class on Tuesdays is from 7-9:30, so we alternate bringing snacks. Last night one of my classmates brought homemade whole wheat pumpkin and cherry muffins (which also had shredded carrots in them, I later learned) and original flavored pop chips. It was a perfect snack to keep my brain going that late.
Thanks again to Jenn for hosting WIAW every week. What have you been eating lately?
Similar Posts: