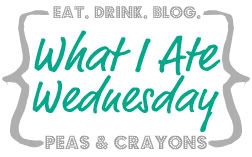 That's right, I'm doing my very first WIAW post! What I Ate Wednesday was started by Jenn at
Peas and Crayons
and has exploded!
A little blurb from her WIAW page: "WIAW is about food and fun! It's about making new friends, breaking out of a food rut, noting changes in your diet/lifestyle, inspiring yourself & others, embracing fruit & vegetables, nourishing your body with the foods that work for you, finding new ways to eat your favorite foods, and so. much. more. <3″
For my first WIAW endeavor, I'm going to play catch up on my food from Monday, even though I didn't do a 100% job photographing everything and my meals were pretty sad.
Yes, I followed up my Luna bar breakfast with a Luna bar morning snack. Mondays aren't very well planned out, generally.
Chipotle Chicken Bistro Box from Starbucks. I was running late and didn't pack lunch, but I love the options Starbucks carries (plus I had money on my Starbucks card).
The little squares of dark chocolate that come in the bistro boxes may be the biggest selling point, not gonna lie.
Yeah, I hit up the vending machine during class.
In addition to not photographing the chicken over top of my steamed broccoli (oops), I didn't photograph my Nutrigrain bar and found a photo on a stock image website. Other forgotten pieces were coffee with breakfast (black), an unsweetened green iced tea from Starbucks to go along with my lunch, a Corona Light with my dinner, and an after dinner cookie.
I think Jenn's point about learning something about our food habits from this will ring true for me. Really looking at what I'm eating (and why, hello lack of planning) is a great insight. Hopefully I'll get the hang of taking photos of my food (and beverages!) and have a better assortment for you next week. Until then, happy Wednesday!

Similar Posts: